Fire Safety
You are more than twice as likely to die in a fire at home if you haven't got a working smoke alarm. A smoke alarm is the easiest way to alert you to the danger of fire, giving you time to escape. If your property does not have a smoke alarm installed, please contact LHP immediately. Also, please do not remove any batteries from the detectors as it may impact the way a detector performance, if your alarm is faulty please contact LHP immediately.
The more alarms you have, the safer you'll be – as long as they are working – so make sure you test them every week. Easy to remember – Test it Tuesday.
Both Humberside and Lincolnshire Fire and Rescue Service provide useful information on how and where to fit your alarms.
Both fire and rescue services also offer free home safety visits to eligible customers. This involves them visiting your home and offering fire safety advice for you and your household. They may also be able to install your smoke alarm for free.
If your home has a smoke detector it is important that you look after it and follow the manufacturer's instructions. If it is not working please contact us immediately.
It's essential that you test the battery in your smoke alarm regularly to make sure it works – only a working smoke alarm can buy you and your family the valuable time you need to get out, stay out and telephone 999.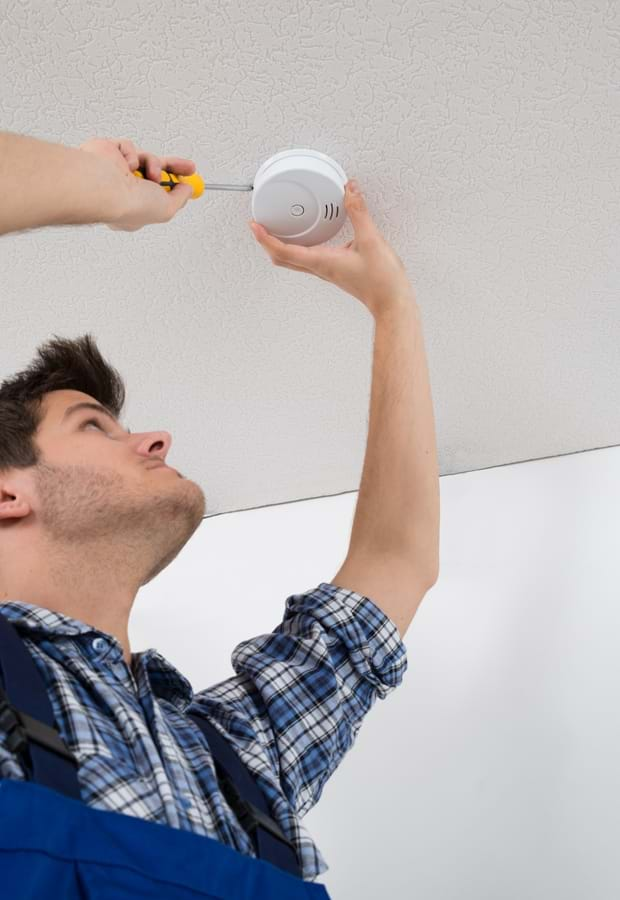 Before you go to bed
If a fire breaks out, these steps can make escaping quicker and easier but ultimately this routine can prevent a fire from happening in the first place.
Put candles and cigarettes out properly
Fires caused by smoking related materials are a big cause of fire deaths. Candles should never be left unattended.
Check that the cooker is turned off
If using an open fire, make sure all embers are fully extinguished and put up a fire guard
A spark from an unattended fire can easily cause a fire
Turn off and unplug electrical appliances unless they are designed to be left on – like the freezer
By switching off electrical appliances the risk of a fire breaking out in the home is reduced.
Turn off gas and electric heaters
By switching off heaters the risk of a fire breaking out in the home is reduced.
Keep door and window keys where everyone in the household can find them
Knowing where the keys are will provide valuable extra time to escape in an emergency.
Make sure all exits are clear
Should a fire break out, keeping walkways and exits clear will make escaping easier.
Close internal doors at night to stop a fire from spreading
If a fire breaks out, closed doors slow down the fire's spread which gives extra time to escape.
Keep you and your family safer from fire.
Prevent – Stop a fire from starting by introducing a bedtime check into the household
Protect – Be alerted early should a fire break out by fitting smoke alarms
Respond – Prepare and practice a plan of escape to use should the worst happen
For more information about safety in the home please visit Humberside and Lincolnshire Fire Rescue Service.