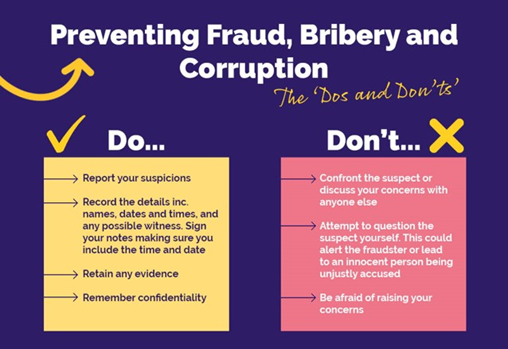 Do you have a concern that you are unsure where to report?
Is your concern regarding your tenancy or another of our homes?
Then this page may provide you with some help!
The types of concerns/ areas that are discussed within this page include:
Anti-bribery
Whistle blowing
Anti-money laundering
Fraud & corruption
Probity
Code of conduct
Please note this page is not for concerns relating to anti-social behaviour.
To discuss or report any anti-social behaviour, please visit our Reporting ASB page.
If this page does not provide you with the answers you need and you're unsure what to do next, please contact us on our confidential email address, where we can offer you support and guidance.
You may not know specifically what category your concern comes under, so we've listed the key areas below.
Look out for texts, calls or emails pretending to be from LHP!
Over recent years there has been several attempts from scammers pretending to work for LHP in order to obtain customers bank account details, request money and so on. They have been contacting our customers in a variety of ways, such as sending emails, texts, calling them, and even turning up at their house and pretending to work for LHP!
Our workers will always have photo ID on them. You can also check their identity by calling us up on 0345 604 1472.
If you are ever concerned about the identity or motive behind someone stating they work for LHP please contact us on our customer service line 0345 604 1472.
Alternatively, if you would like to report any concerning emails, texts or phone calls which you believe are a scam please email us on raisingconcerns@lincolnshirehp.com so we can investigate/ make other customers aware.