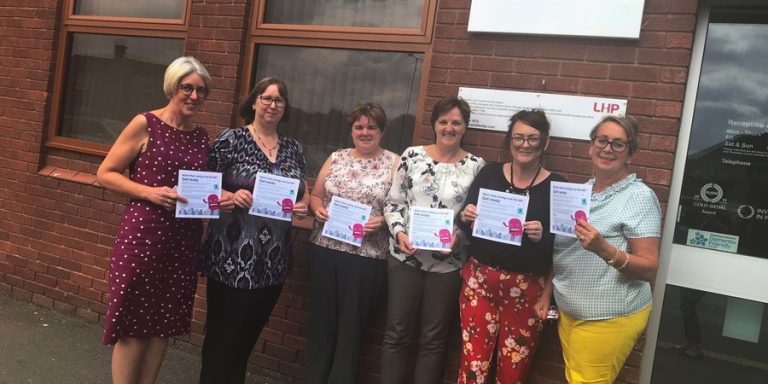 Posted 7 August 2018
Universal Credit Campaign Launched
Get ready. Talk to us. And make rent payments a priority.
That's the message as we launch a campaign to help tenants prepare for Universal Credit.
In Boston, Universal Credit is due to roll out in September 2018 bringing benefit changes to many people.
Universal Credit brings several working age benefits into one single monthly payment for people in or out of work.
It replaces some benefits and tax credits including Income Support, Income-based Jobseekers Allowance, Income-related Employment and Support Allowance, Housing Benefit, Working Tax Credit and Child Tax Credit.
If a working age tenant receives Housing Benefit for their rent, this will stop being paid directly to us and the money will be paid directly to the tenant meaning they must pay the rent to LHP themselves.
LHP head of income Wendy Walker said: "As a charitable organisation whose income comes from rent, we're reminding our tenants that as always, paying your rent should be the top priority. Remember – rent first."
Universal Credit has already launched to the north of the county, immediately increasing rent arrears figures there. With only 672 out of a possible 4500 claimants so far, the total debt currently stands at £227,366.85 representing 40% of the overall current rent debt (June 2018).
Wendy continued: "If rent arrears rise as a result of Universal Credit this obviously affects our income and consequently it affects the homes and services we provide. It's as simple as that."
Initial indications suggest 1350 LHP customers will be directly affected in the Boston area with potentially another 1650 likely to be affected.
Keen to offer support and advice, Wendy added: "What we want to advise tenants is that Universal Credit doesn't have to be scary, we are here to provide support and advice and they should follow the steps we recommend to prepare themselves and GET READY."
To prepare for the changes, individuals should:
Get their rent account into credit

It can take up to six weeks for a Universal Credit application to be processed so make additional rent payments to LHP now even if you receive Housing Benefit.

Set up a bank account

Universal Credit is paid directly into a bank account. If a couple are both entitled to Universal Credit, they will get one joint monthly payment paid into one bank account.

Plan how to budget

Manage your money. Plan how you'll budget. It's a huge temptation receiving a large sum of money in one go but it should be rent first.

Get online

Find out how you can get online or access online services and set up an email address.
The Department for Work and Pensions will ask individuals to make a claim when it is their turn to do so but don't forget to let us know as soon as you are in receipt of Universal Credit.
Over the coming weeks we are contacting customers, supplying useful information and preparing a wealth of useful information and handy hints and tips through our 'It doesn't have to be a monster campaign'.
Photo: LHP employees officially launch the GET READY Universal Credit campaign.