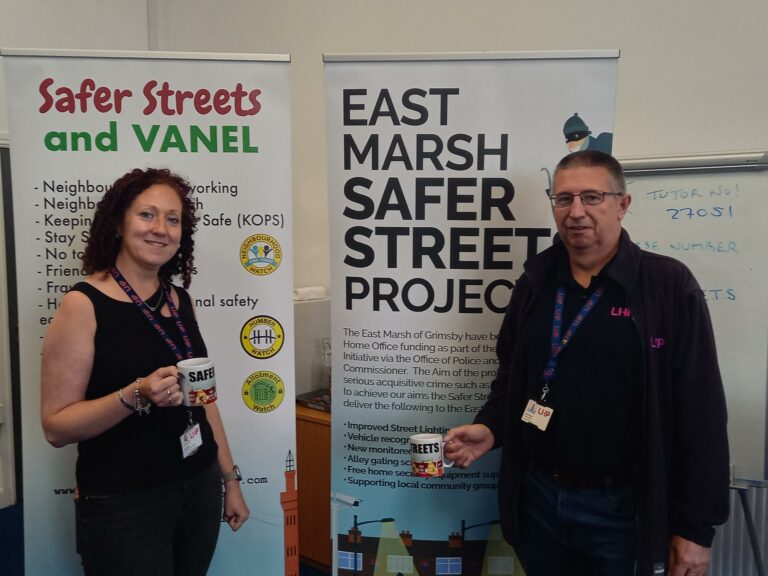 Posted 10 October 2023
Safer Streets NEL: A successful programme on the East Marsh
We were delighted to be involved in this film about the Safer Streets project on the East Marsh in Grimsby.
The film shows the level of collaboration between government agencies, community organisations, and local residents is making East Marsh a safer and better place to live.
Safer Streets NEL is a Home Office-funded programme that has seen two successful deployments in North East Lincolnshire since 2021, one in West Marsh and one in East Marsh.
Both the West Marsh and East Marsh programmes have achieved significant success in reducing crime and anti-social behaviour. The West Marsh programme saw a 21% reduction in crime and a 29% reduction in anti-social behaviour, while the East Marsh programme saw a 23% reduction in crime and a 27% reduction in anti-social behaviour.
The programmes were delivered in partnership with a wide range of organisations, including North East Lincolnshire Council, Humberside Police and Crime Commissioner, and local community groups.
Key initiatives of Safer Streets
Some of the key initiatives that were implemented as part of the Safer Streets NEL programmes include:
Home security upgrades for vulnerable residents
Installation of new CCTV cameras and improved street lighting
Targeted patrols by police and community support officers
Educational and awareness-raising programmes for young people and adults
The Safer Streets NEL programmes have made a real difference to the lives of residents in West Marsh and East Marsh. By working together with partners, we have created safer and more welcoming communities.
If you live in North East Lincolnshire and are interested in finding out more about the Safer Streets NEL programmes, please visit their website .