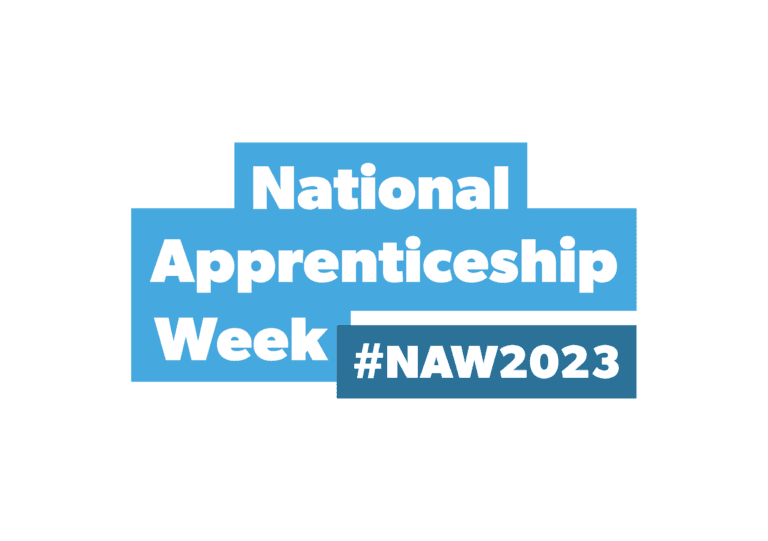 Posted 10 February 2023
National Apprenticeship Week 2023
This week we are celebrating all things apprenticeships with National Apprenticeship Week.
National Apprenticeship Week runs from 6-12 February and this year's theme is 'Skills for Life'; reflecting on how apprenticeships can help individuals to develop the skills and knowledge required for a rewarding career, and businesses to develop a talented workforce that is equipped with future-ready skills.
This week, we have been in touch with some of our current apprentices at LHP, to ask them about their experience so far, and their skills and ambitions.
Nicola Brian (Nikki) joined LHP as a 'Customer First Apprentice', and her manager Hollie Storr has told us how Nikki is one of the most 'hardworking and dedicated people I've ever met. She put everything she had into her apprenticeship and learning the role, it has been extremely rewarding as her manager to watch her confidence grow'. Nikki passed her apprenticeship with a distinction which Hollie tells us was 'truly deserved!'. Nikki continues to drive the complaints process and works with colleagues across the business to ensure we always strive to Listen, Act and Learn. Nikki embodies the Customer First value every day, providing fresh perspective as she is also a customer of ours too. Nikki tells us she has enjoyed the opportunity to complete her apprenticeship here at LHP, with Hollie being more than supportive with Nikki's whole journey learning a totally new career, having previously worked in retail. 'I was never that confident using computers, but with a few courses and practice, I have managed to become more confident in using all aspects of our QL system, as well as Microsoft Word and Excel'. Nikki told us that to anyone thinking of taking on a new apprenticeship in a new area of work, that it is so rewarding to work so hard and be rewarded with a qualification at the end of it, to undertake a whole new career.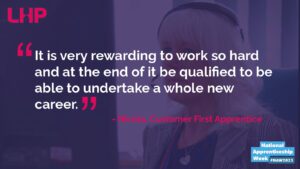 Mel Cheuk is our Housing Apprentice, and works with Helen Bell, Neighbourhood Team Leader. Mel praised the support from her team leaders and other colleagues at LHP, for making her feel part of the team, expressing that it has helped her develop the ability to adapt to situations that she may not normally have come across, and learning the best ways to deal with them. Helen reaches out to express her gratitude for Mel, saying the team can't remember a time without Mel! 'She brings a new lease of life to the team, and is always full of brilliant ideas for how we can improve our service. She is the perfect fit for the team, and has the potential to grow to wherever her ambitions take her'. Mel hopes to complete her apprenticeship and become a permanent member of LHP!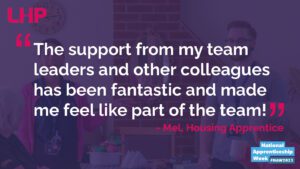 Phil Madin is one of our Electrical Supervisors who has our Electrical Apprentice, George Holcombe, in his team. Phil said his team are grateful for the opportunity to pass their skills onto George, and train him to become a future Electrician. George is a huge help in supporting the Electricians with their daily tasks, whilst also providing George with the opportunity to learn and experience new ways of working whilst on the job. 'Since starting, George has settled in well with the team, our Electricians found him easy to assimilate into the team, he is well natured and enjoys the camaraderie within the team. It's a blessing to have an apprentice who is keen to learn, he will continue to be a huge benefit to LHP'. George told us his apprenticeship is going well, he enjoys learning on site with the team, witnessing and learning multiple skills such as certificates and material ordering. George's goal is to become a fully qualified Electrician at LHP.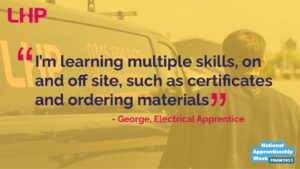 We have recently appointed Vanessa Fielder as our Facilities Management Apprentice, who works with Pete Cleary on one of LHPs biggest current projects, our office relocation. Pete told us that 'Vanessa has hit the ground running and has greatly contributed already to the office relocation project. I have no doubt she will become a valuable asset in the day-to-day
running of the new office'. Vanessa expresses that she has learnt a great deal in her two months with LHP so far, gaining a new understanding of different legislations that will be involved in her daily duties, whilst embarking on this new career path. 'I have learnt lots about communicating and all the different ways this can be done, so my colleagues can easily get in touch with me. I hope to complete my apprenticeship and continue working with LHP as a Facilities Manager. I enjoy my time at work, and have made many new friends already. There is lots to learn about my chosen career within the walls of these offices!'.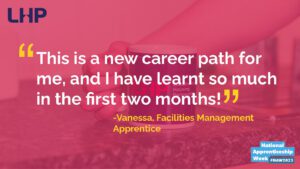 Lucy Buxton has recently joined us as Business Analyst Apprentice and has spoken to us about how great her experience has been so far. 'I have learnt so much in such little time, I'm loving getting to know the different departments and how they work. My confidence has boosted massively too!'. Whilst Lucy expresses that her communication, teamwork and planning skills have already developed during her apprenticeship so far, she hopes that in the near future she continues to get involved with all projects, improving digital processes whilst working alongside the IT Team, she also hopes to successfully complete her apprenticeship course and continue working in this sector. Lucy's manager, Frank, told us about the search for an apprentice with a great attitude to work and a drive to learn, explaining that this alone will have a positive impact within the team. 'Lucy has started really well and has been working with me directly to support our Digital Improvement Ambassadors, documenting digital services used by departments to identify improvement opportunities and project support'.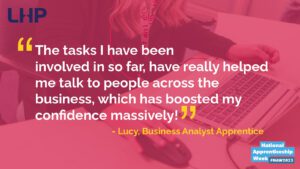 Another one of our apprentices who has recently joined the IT Team is Dom Carpenter, who joined us as a Digital Delivery Apprentice. Dom has thoroughly enjoyed his time so far at LHP, telling us how welcoming everyone has been from the start, and how much he's learnt in such a short amount of time! 'I have learnt how to present myself and work in an office setting, alongside developing a variety of IT skills. I hope that after my apprenticeship I can secure a full time role with LHP and be continuously learning in the world of IT!'. Dom works with Josh, our Senior Service Desk Analyst, who told us 'Dom always turns up with a smile on his face, he brings fresh, new opinions to the group increasing our efficiency. He has integrated brilliantly, becoming more confident as an individual and an employee'.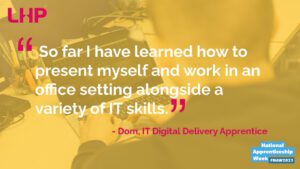 Thank you to our apprentices for all of your hard work so far, and thank you to their managers for their support and willingness to pass their skills on!