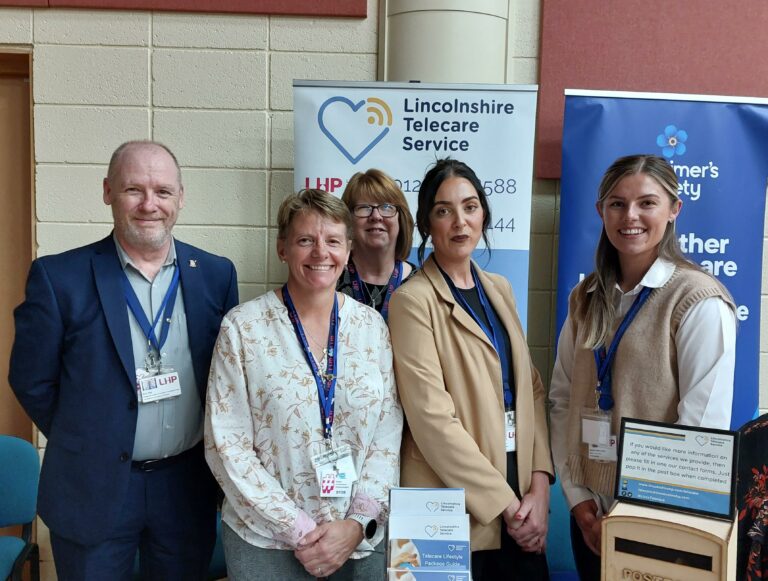 Posted 23 October 2023
LILP Dementia Conference 2023
On Wednesday 11 October 2023, as part of our partnership with Lincs Independent Living Partnership (LILP), we attended a Dementia Conference at Bishop Grosseteste University in Lincoln. The theme of the conference was "We Have to Do Better" and it was a huge success, with over 200 people attending.
Rod Stair, Integrated Living and Support Services Manager, and four of our team (Hannah Chandler, Cassie Louth, Deb Broadley, and Sam Thwaites) attended the conference. They also promoted our Telecare Service, Memory Lane Dementia Day Care service, and our sheltered and extra care housing.
One of the highlights of the conference was a presentation by Dr Wendy Mitchell, a bestselling author and dementia advocate who was diagnosed with Young Onset Dementia in 2014. Dr Mitchell shared her personal story – her talk was both informative and inspirational.
Another highlight of the conference was a performance by Our Dementia Choir with Vicky McClure. The choir is made up of people living with dementia and their carers – their performance was both moving and inspiring.
Launch of new dementia service
The conference also marked the official launch of Age UK Lincoln & South Lincolnshire's brand-new dementia support service, 'I Forget'. The service is delivered in partnership with LILP and offers a range of support, including:
Access to information
Help with home adaptations
Practical advice and planning
Wellbeing support
Support for friends and family members
The conference was a valuable opportunity for people to learn more about the support services available in Lincolnshire. It was also a chance for people to come together and share their experiences. The feedback from attendees was overwhelmingly positive, with many people commenting on the quality of the speakers and the overall atmosphere of the day.
We are committed to providing a range of services, including:
Telecare: A 24/7 emergency response service that can provide peace of mind for you and your loved ones.
Memory Lane: A day care service that provides social interaction, activities, and support for people living with dementia.
Sheltered and extra care housing: Housing that provides support and care services for people living with dementia.
Please contact us to learn more about the support services we offer.