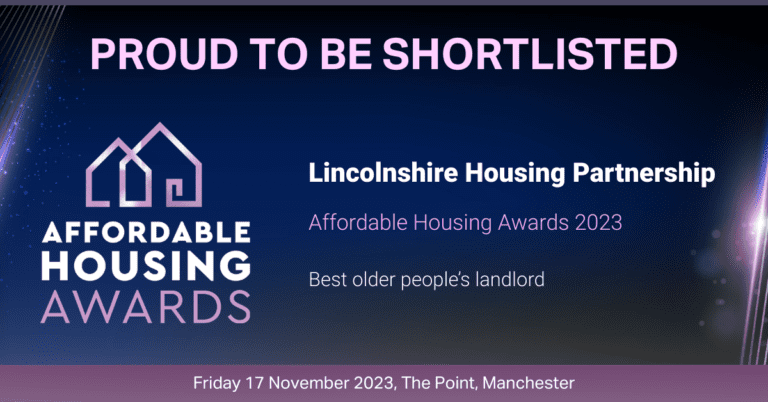 Posted 21 September 2023
LHP shortlisted for Best Older Person's Landlord at the Affordable Housing Awards
We are a finalist for the Best Older Person's Landlord award at the Affordable Housing Awards 2023. The awards recognise the best in affordable housing provision in the UK.
Judges recognised our range of age-appropriate housing options, our support of independent living, and our work with partners to provide a range of services to older people.
Our housing offer for older people includes:
Bungalows with and without alarm systems
Sheltered housing schemes with communal facilities
Extra care housing schemes with on-site support and care services
A telecare service that provides 24/7 monitoring and support
A dementia day care service
A range of social activities and events
We work with a range of partners to provide support to older people, including Age UK, Lincolnshire County Council, and the Alzheimer's Society.
As part of this, we provide a falls response service, staff for the dementia day care service, and safeguarding residents.
We help older people live independently and age well. To be shortlisted for the Best Older Person's Landlord award is a testament to the quality of our housing and support services.
Helping older people live independently
Here are some of the specific things that we have done to help older people maintain their independence and live healthy, happy lives:
The Independent Living Service provides support planning and welfare checks to help residents stay safe and well in their own homes.
The Out of Hours Response Service is available to all LHP alarm users and provides assistance within 45 minutes of a call.
The Memory Lane Dementia Day Service provides a safe and supportive environment for people living with dementia to participate in activities and socialise.
The Memory Lane Creative Arts sessions offer people living with dementia the opportunity to express themselves through art.
The Social Breakfasts provide a chance for people living with dementia and their carers to get together and socialize.
The Memory Lane Music events bring people together to enjoy live music.
The awards ceremony will be held on Friday, November 17, 2023, at The Point in Manchester. Keep an eye out for further updates on the Affordable Housing Awards, including another finalist announcement coming soon!