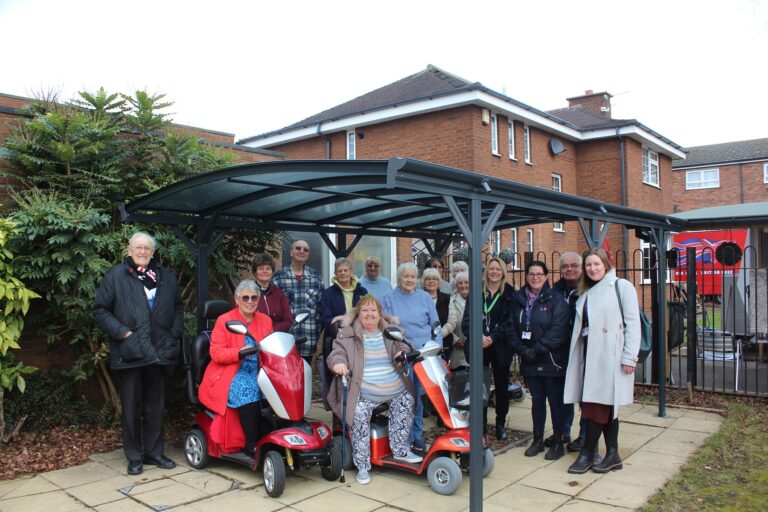 Posted 21 February 2023
Gimme Shelter – safety from the rain on the Willows
We recently partnered with Lincolnshire Co-op to bring a much-needed mobility scooter shelter to the Willows Estate in Grimsby. The shelter helps residents of the estate stay dry in the rain and showers. It also offers them a secure and convenient place to store their scooters when visiting the Bishop King Centre.
Dave Toyne (Handyperson) and John Bramhill (Pipefitter/Welder) installed the shelter. Attendees of the centre's Chatterbox sessions were pleasantly surprised upon arrival. Peggy, a regular visitor to the centre, said she was "over the moon."
Shelter from the rain
Lincolnshire Co-op funded the shelter. It is just one of the many initiatives that we have undertaken in recent years to support local communities. Beth Johnson, our Customer Engagement and Development Manager, commented on the project, saying: "The Bishop King Centre is a long-standing community centre with several volunteers and visitors relying on scooters when coming to visit. Having somewhere dry to store their scooters will make visiting on a rainy day much easier."
Sophie Leaning, Lincolnshire Co-op Community co-ordinator commented: "Making life better in our communities is what we're about, the Community Champions Scheme is there to support communities with projects that make a difference locally."
The next project for the centre is to level paving slabs to make the entrance area safer and install external security lights to improve the safety of visitors leaving in the dark. If you are able to support this project, please contact Sandra Booth on 07856 358 559 or visit the Bishop King Centre.
Our projects are not just about ensuring comfort and safety of residents. They are also about creating a sense of community and bringing people together. By investing in the Willows Estate and its residents, we are demonstrating how we value our customers and the importance we place on building Great Homes and Strong Communities.