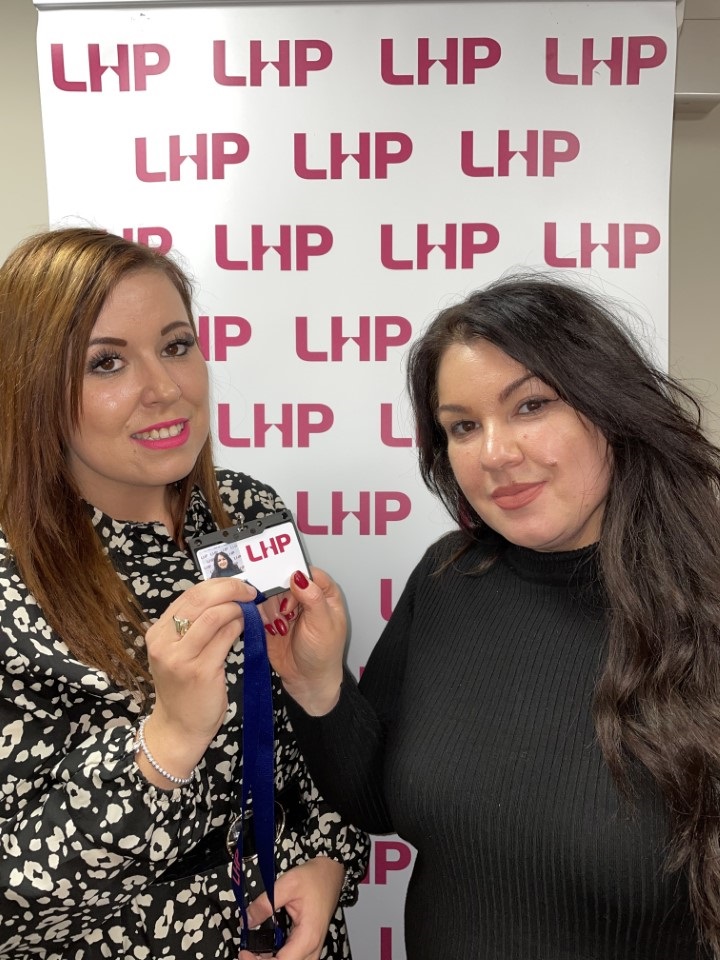 Posted 8 March 2023
From customer to colleague: Hayley's story
We recently welcomed one of our newest Housing Officers, Hayley Perry, to our team.
We make sure that we celebrate and welcome all our new starters, but we especially wanted to share some of Hayley's reasons for joining us.
Hayley has been one of our customers for over two years. In mid-2022, she had a home visit from her Housing Officer Chloe Gilbert. Hayley commended Chloe on the professional yet friendly interaction that they had.
She said: "Having a home visit can sometimes be quite stressful, so it was nice to meet someone as friendly and down to earth as Chloe."
Hayley explained how impressed she was with how Chloe had interacted with her young son when she happened to visit them on his birthday.
"Chloe made us feel so at ease," she added.
"It had such a positive impact on me, and I thought about joining the team and working for an organisation like LHP."
Hayley applies for Housing Officer role
Hayley later applied for a Housing Officer role and was successfully appointed in October 2022. She was excited to begin her new role as a Housing Officer, and she was determined to make a positive impact on the lives of her customers.
As a customer, she understands the challenges that many people face when it comes to housing, and she is committed to providing them with the support and guidance they need.
Working closely with customers
Jade Bramhill, Neighbourhood Team Leader added: "During her first few weeks on the job, Hayley was introduced to many of her colleagues and began to learn about the various projects and initiatives that we are involved in.
"She quickly realised that she had joined a team who are passionate about making a difference in their communities."
Hayley added: "I was particularly impressed with the way that LHP used technology to enhance the customer experience. I have always been a strong advocate for using technology to improve service delivery."
In here first few months with us, Hayley has worked closely with her customers, listening to their concerns and helping them to find solutions to their housing challenges. We're delighted to see the positive impact that her work is having on other customers' lives.
Hayley's journey to becoming a Housing Officer at LHP is a great example of how dedication, hard work, and a passion for helping others can lead to a rewarding and fulfilling career. This really aligns with our values and priorities, putting the Customer First and building strong communities, where our customers feel welcome and valued.