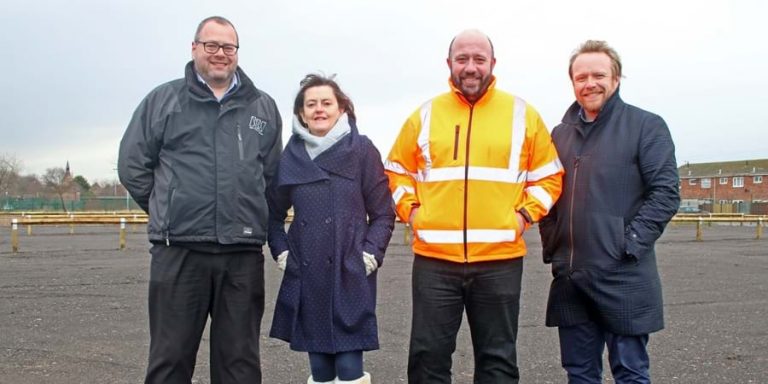 Posted 4 February 2019
Demolition Project Comes to an End
Demolition work is now fully completed at the nine-acre site of the former East Marsh high rise blocks.
After a ten-month project that has seen the towers levelled – along with the nearby maisonettes – specialists at DSM Demolition today (Friday) formerly handed the site back to the Lincolnshire Housing Partnership, (LHP).
Security fencing will remain around the whole area, with a section of it now being used as a temporary car park for staff at the Care Trust Group HQ, which is based on nearby Kent Street.
LHP Project Manager Rachel Munoz praised DSM and the structural agent Alan Woods Partnership for a contract that was delivered on time.
She said: "The team at LHP wishes to extend thanks to all involved, the often-challenging project was well managed, with excellent relationships maintained throughout. Our thanks also goes out to the local community.
"The completion of this major work now opens the way for regeneration across the whole of the East Marsh. We hope that this will signify the beginning of a new era and present an opportunity for transformational change," added Rachel.
The decision to demolish Grimsby's iconic blocks was made by the then Shoreline Housing Partnership in 2014, after a major consultation exercise. In announcing the news five years ago, the association said that demand for such accommodation was declining locally and the 1960s flats required huge capital investment in the future, with increased running costs.
The project completion coincides with the work taking place by the Enrolled Freemen of Grimsby to demolish and transform a large section of Freemen Street, starting with the north end from the old House of Holland building to the former Cox's Fish & Chip shop.
LHP Chief Executive Murray Macdonald confirmed that work was continuing with partners and stakeholders to establish a long-term vision for the area, which was likely to incorporate projects already underway or proposed.
"There is a fantastic opportunity here for us all to change the face of the East Marsh forever, transforming the area for the benefit of the wider North East Lincolnshire community. We must work together to grasp this chance," added Murray.