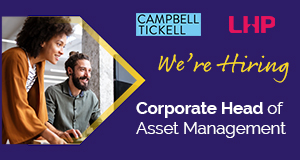 Posted 18 October 2021
Corporate Head of Asset Management
We have a fantastic opportunity to join our team as Corporate Head of Asset Management
With a recent regulatory upgrade to G1; the completion of a governance effectiveness review; a new corporate plan in development; delivery of key digital transformation projects and accreditation with Best Companies as Ones To Watch, you know you're joining an organisation that has ambition.
Reporting to the Executive Director for Property, you will have lead responsibility for the Asset Management Service, including Landlord Building Health & Safety Compliance, Strategic Asset Management, Planned Investment, Regeneration, and Development and Sales. You will ensure compliance with regulatory and other legislative standards across core functional areas of responsibility.
As a qualified professional (or equivalent experience) you will offer a senior track record in strategic asset management, ideally in affordable housing, or be able to demonstrate clear transferable skills in this arena.
You will need a high level of emotional intelligence and be able to generate confidence by building strong relationships with the Executive and Corporate Leadership teams, and provide advice and guidance in the delivery of a complex range of services.
This is also an enabling role advising on how plans can be taken forward safely in a compliant way as you take oversight of specific delivery areas related to our Corporate Plan. You will therefore be adept in achieving a balance of being directive and supportive as needed.
This is a unique opportunity to join a highly ambitious team. You can find out more information about the role by clicking here.
Key contact
For an informal discussion and further information about this role, please contact Kelly Shaw on 07900 363 803.