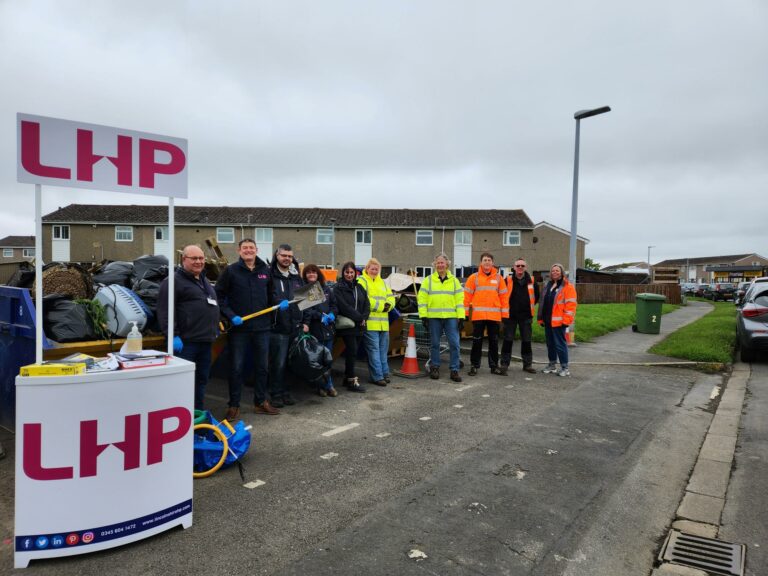 Posted 18 May 2023
Community Clean-Ups: Working Towards a Cleaner Immingham
Ever since our first Board Tour of Immingham in December 2022, we've been rolling up our sleeves and getting stuck in with a bunch of clean-up gigs all around town.
Housing Officer Craig Nuttall, who joined our team in the same month, has demonstrated exceptional dedication to the cause. He's been teaming up with our customers, partners, and colleagues. Together they've made some seriously impressive changes to the area in next to no time.
The first mission was to get rid of some abandoned cars. These were swiftly removed – making the area look better already! Then in March, we linked up with the folks at Longhurst, Equans, Phillips 66, Immingham Town Council, and Humberside Fire & Rescue. Together we set out to pick up litter around Kennedy Way and the flats at the back of Washdyke Lane.
Fast forward to last Friday (12th May), where we pulled off the biggest clean-up event yet. We filled a whopping SIX skips, gave service roads, gardens, and paths a proper tidy up. We also chatted with locals about recycling, getting rid of waste properly, and how to stop fly tipping. Our friends at Equans, Longhurst, Humberside Fire & Rescue, and Humberside Police all pitched in and helped residents spruce up the area. The skips – kindly provided by CR Skips – were overflowing in no time!
We've had some fantastic feedback from the locals, who seem chuffed with our services and even called us a "fantastic landlord"!
Equans also had the chance to chat with residents who needed a bit of extra support and put them in touch with local services.
We're all about keeping our neighbourhoods clean and safe – it's what gets us out of bed in the morning. And this is just a brilliant example of what we can achieve when we all work together!
A massive shout-out and thanks to all the partners and colleagues who got stuck in to help make this event a roaring success! We look forward to the next clean-up event! Keep your eyes on our social media for any coming up in your area.
Take a look at some photos from the events: