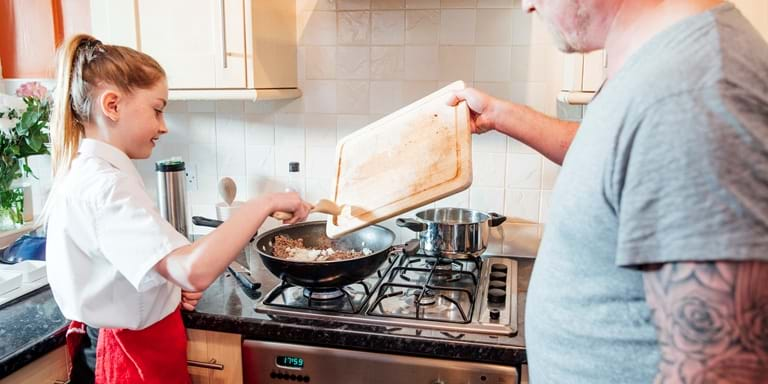 Food Recipes
Healthier lunches (or dinner to the Northerners)
If you have children at school and you are on benefits or have an income of less than £16,190 a year, you might qualify for free school meals. You can check if your child can get free school meals and find out how to apply for them to your local authority.
If you do make a packed lunch for your child, Change4Life have got it covered, with some great hints and tips on what the lunchbox should contain as well as lots of easy, tasty and cheap ideas for lunches your children will love.
Recipe inspiration
If you're looking for cheap, tasty and healthy recipe inspiration, try these useful websites and apps:
Change4Life
Get top tips, healthy recipes and great ideas for cheap family meals and even at-home 'takeaways' with Change4Life.
Their simple Eatwell guide helps you eat a healthy, balanced diet and shows you the different foods and drinks we should consume.
Plus there's a FREE tasty recipes app which has 160 quick and easy recipes and step-by-step videos. Available on the Apple App Store and Google Play.
Love food, hate waste – discover lots of tasty leftover food recipes. You can even search them by difficulty rating – from beginner to experienced and cooking time.
We've collated lots of cheap and tasty recipes on our Pinterest boards. Visit to find out more.
Top tips
Save money and reduce food waste with these top tips:
Plan your meals ahead
Stick to your shopping list and only buy what you need and what you will actually eat
Beware of special offers and don't be fooled by Buy One Get One Frees that encourage you to buy more than you need
Pick up loose items instead of pre-packaged or pre-cut
Choose own brands – they're usually cheaper and can be just as tasty and nutritious
Freeze it! Get friendly with your freezer:

freeze leftovers – they make great extra meals, can be used for lunches instead of expensive shop-bought sandwiches and save money as well as time.
freeze bread while it's fresh
buy items that are reduced and near their sell-by date and freeze them
batch cook – cook a bit more and freeze it, cook once, eat twice

Bulk it out. Meat can be expensive so add veg, lentils, beans and pulses to casseroles and stews to make them go further. Cheap, healthy and filling.
Get savvy with sauce. From jam to tomato sauce, cook-in pasta sauces and curry to gravy, decant leftovers to tubs or freezer bags and freeze. Ice cube trays are good for freezing small quantities.